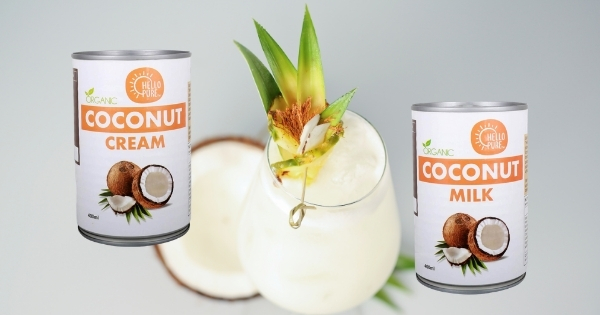 What is Coconut Milk and what is it used for?
Coconut milk is the liquid that comes from the grated meat of mature coconuts. Coconut milk is widely used in the food manufacturing industry due to its versatility and beautifully unique nutty flavour. Wholesale organic coconut milk is also a key ingredient in the vegan food industry, as it is a nutritious dairy-free milk alternative.
Wholesale coconut milk: Vital for the Vegan food industry
As the demand for vegan friendly food products is steadily increasing, it is important for food manufacturers to consider creating products for the vegan food market, if they aren't doing so already.
According to recent market research, Australia is one to watch when it comes to the demand for vegan friendly products. It is projected to continue as the third-fastest-growing vegan market in the world.
Wholesale coconut milk is a vital ingredient when it comes to producing high quality, nutritious vegan food products. Coconut milk and cream can be used to produce a wide variety of food products including dairy-free yoghurts and ice cream, nutritious and creamy vegan curries and soups, as well as dairy free smoothies and other vegan desserts.
There are many benefits of adding coconut-based products to your product offerings. For example, ice cream manufacturers who opt to add a vegan coconut ice cream to their range are not only expanding their reach to target the growing number of vegan consumers.  These manufacturers are also creating a product that can be marketed as a more nutritious alternative to regular ice cream, as coconut is an excellent source of vitamins and minerals. When adding coconut products to your product range it is important to choose the right coconut milk supplier. Here at Franklands we are committed to working with our customers on new product development, so you can get your coconut-based products to market with confidence.
Choosing a Coconut Milk Supplier

At Franklands, we supply bulk organic coconut milk and cream to food manufacturers in various sizes ranging from 20kg bags in a box to 1000kg IBC tanks. As a coconut milk wholesaler we can guarantee very competitive prices while not compromising on quality. We supply a high quality organic coconut milk which is 100% additive free and does not separate.
We are proud to have a very reliable uninterrupted product supply direct to our customers and have fresh stocks now available in Melbourne. We are also the best in the market for Order to Delivery lead times which means you get your product faster.
If you would like to learn more about how you can use our bulk organic coconut milk in your food manufacturing business, contact us here.