The importance of packaging and storage for retail coconut products
The health benefits of coconut and their related products have been widely espoused over a number of years. Coconut is naturally rich in fibre and packed with many beneficial vitamins and minerals. It is important to correctly package and storage of coconut products so that the aroma, quality and freshness of the product is maintained. This helps to "lock-in" the health benefits for consumers and extends the shelf life of coconut products in a retail environment.
Coconut food packaging – Why is it important?
Food packaging plays a vital role in maintaining coconut food quality and safety during handling and transportation. It helps to protect the coconut product from the following, which could contaminate or degrade the product:
Harmful chemicals
Air
Moisture
Microorganisms
Leakages
Ineffective packaging can result in the coconut product spoiling after a short period of time. If packaging procedures are not completely hygienic, consumers face a risk of coming into contact with bacteria or contaminants.
The life span of food packaging begins from the point of production and packing right through to the eventual disposal by an end-user. Consumers are increasingly demanding a wide range of dry and liquid coconut products throughout the year in various package volumes. Packaging has become essential to ensure coconut products are safe for consumption, and as a way to extend the product shelf life.
One method used by Franklands to ensure the highest qualities of food safety is aseptic processing and packaging. Using this method, food is sterilised outside the container, placed in previously sterilised containers, and then sealed in an aseptic environment. This system uses ultrahigh temperature (UHT) sterilisation, which as the name suggests, is a treatment delivered at extremely high temperatures.
Coconut food storage tips
Coconut food packaging is an important element of extending the shelf life of the product – as is the correct storage of both dry and liquid foods. Franklands offers helpful tips on optimal storage methods across our range through product specification sheets. Here are some coconut storage tips:
Coconut oil – Store in a dry place at an ambient temperature, away from direct sunlight. This product will solidify and become cloudy below 25 degrees Celsius. Before dispensing, gradually thaw above the melting point.
Coconut milk – Store and transport in a clean, dry environment away from sunlight or other direct heat sources. Ideal storage temperature is 25 + 5 degrees Celsius to ensure quality, safety and stability during shelf life.
Coconut chips – Store in odour free area, out of sunlight and away from walls. Avoid storage in high moisture areas.
Retail coconut packs from Franklands
Retail coconut packs from Franklands are packaged using the highest quality and safety standards. We are certified to ISO 22000 Food Safety Management System and have extensive experience in highly sophisticated food preservation methods such as aseptic processing and packaging.
The following coconut products are available across Melbourne, Sydney and Perth in 250g and 500g retail-friendly packages:
Coconut oil is available in 4-litre drums.
Franklands coconut products are available from a broad range of greengrocers and ethnic retail outlets (e.g. Sri Lankan, Asian and Indian).
Why not order some of our high-quality retail coconut packages today? Call 1300 399 746, and we would be happy to help.
More from the Franklands Food blog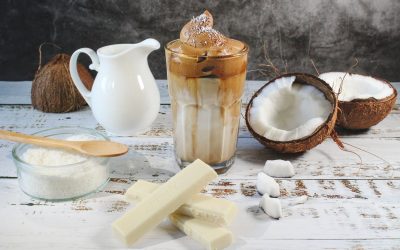 Coconut is such a versatile ingredient. From coconut cream to coconut water and even desiccated coconut, the uses for...
read more